Dinakrome ®
Advanced Chromium Utilization Technology
Advanced chromium yeast technology
What it is
DINAKROME® is an organic trivalent preparation consisting of yeast chromium, Yucca Shidigera extract, synthetic amorphous precipitated silica and magnesium mica.
What it does
DINAKROME® offers a high quality useable and available source of chromium for swine, cattle, (dairy and beef), and horses. It decreases the level of blood cortisol indicating a reduction in the effects of stress, as well as potentiation of insulin to control blood glucose levels, thus preventing diabetes.
Swine
It helps increase lean %, decrease fat, and reduces serum cholesterol levels.
Cattle:
Dairy & Beef
It helps increase weight gains, increase milk protein levels, reduce days to first heat, increase antibody response to commercial live attenuated vaccines, increases cell mediated immunity, lowers serum cortisol, and increases immunoglobulin levels.
AS A FEED ADDITIVE
The Ideal Source of the essential trace element Chromium. DINAKROME®, an organic trivalent chromium preparation, is of great importance to the feed industry. Its importance was recognized following in depth nutritional studies into the bioactivity of chromium in human health and nutrition. These human studies were at least 15 years before studies and interest in chromium as a supplemental nutrient. A group in the Department of Animal and Poultry Science, University of Guelph, Canada, under the direction of Professor D. Mowat, conducted research into the activity of trivalent organic chromium in animal nutrition. The results of this specific work which lead to a number of fascinating discoveries, and has influenced animal nutritionists in their approach and use of trivenlent organic chromium in diet formulation. Chromium is widely available as it exceeds 1/300th of the earth's crust, there are only seven more abundant metals. It is a transition element that occurs in a number of oxidation states. The most stable form is the trivalent state which is the one found in the Glucose Tolerance Factor.
CHROMIUM PLAYS AN IMPORTANT ROLE IN THE IMMUNE SYSTEM
The role of chromium in stimulating the immune system is extremely important. The supplementation of rations with organic chromium potentiated the efficiency of a commercial IBR vaccine resulting in increased antibody titeres. DINAKROME® is an essential dietary component in animal production systems using a vaccination program on a regular basis.
CHROMIUM REDUCES THE EFFECTS OF STRESS
DINAKROME® as a source of organic chromium in the diet decreases the level of blood cortisol indicating a reduction in the effect of stress. This effect was clearly demonstrated when the greatest response to chromium supplementation was seen in animals which were subjected to the greatest degree of stress. Chromium losses during stress were observed with higher energy diets, low protein diets, infection, transportation, and/or periods of stress. Ideally supplemental chromium should be biologically available, in the diet before, and during periods of stress.
Stress may be associated with any diet requiring good mobilization in insulation, Rapid Growth, High Energy Diets, Heat stress, weaning stress, and transportation stress.
Dinakrome® Increases Swine Muscle Growth Rate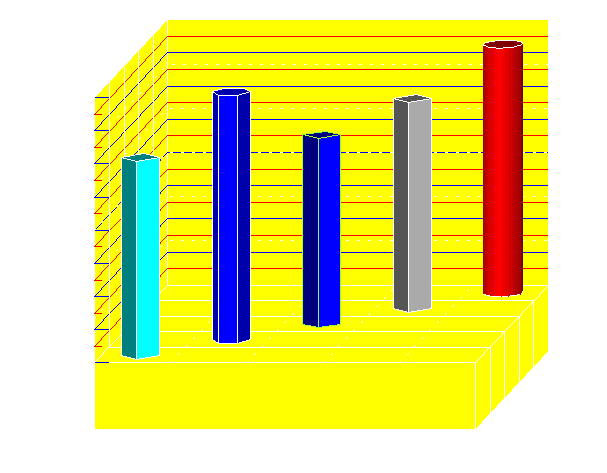 Chromium is an essential trace element, needed to potentiate insulin.
Chromium has several biological functions, including affecting nuclear protein and RNA synthesis, but it's most important role is as an integral component of glucose tolerance factor (GTF) to increase the action of insulin. In effect chromium is an essential trace element of the same importance as copper, zinc, manganese, etc., necessary for the maintenance of metabolic cellular function. The Hexavalent form, in contrast, is toxic. Many other forms are inert and unavailable to the animal. Organic sources such as DINAKROME® are much more available than chronic salts. The initial identification of a factor in glucose tolerance was in brewers yeast. Yeasts are able to incorporate Cr and Cr yeast which has long been used in human nutrition, is now being used in animal nutrition. DINAKROME® is derived from yeast. Inorganic chromium is not a suitable supplement as it is very poorly absorbed, (only 2 to 3 percent).
BENEFITS OF DINAKROME® IN ANIMAL PRODUCTION
DINAKROME® with trivalent chromium, has an absorption efficiency 40+%, which is 10 to 20 times higher. Chromium is a nutrient not a therapeutic agent or drug, therefore supplementation will benefit when marginal deficiency occurs. Benefits may be expected when the animal is on a chromium deficient diet, or under stress, which increases the requirement for chromium.
BENEFITS OF DINAKROME®IN SWINE PRODUCTION
Research has found benefits in swine production to be related to performance improvements particularly increased meat deposition (see graph on reverse). An experiment at Louisiana State University shows improvements in carcass quality with the addition of organic chromium to the diet. Not only was lean increased and fat decreased, but serum cholesterol was also reduced. The benefits of the added chromium were substantial and the work has given reason for further research to define more accurately the responses of pigs to dietary chromium. Recently, Gilbert and Wenk, Institute for Animal Sciences, Swiss Federal Institute for Technology, Switzerland, showed that supplementation with DINAKROME® resulted in the greatest muscle growth. The three Cr sources used in this study were, chromium chloride, chromium picolinate, and chromium yeast, all of which improved weight gain and feed efficiency. However, the chromium yeast (DINAKROME®) proved most effective in stimulation of muscle growth. In addition to the chromium sources supplemental action of bioplex manganese (Mn Prot.) significantly increased muscle growth.
CONCLUSION:
DINAKROME® (300 ppm organic Cr.) is the ideal supplement, at the rate of 400-1000 gm./ton for swine, increasing muscle development, reducing back fat, and serum cholesterol.
Dinakrome increases in blood serum levels in cattle.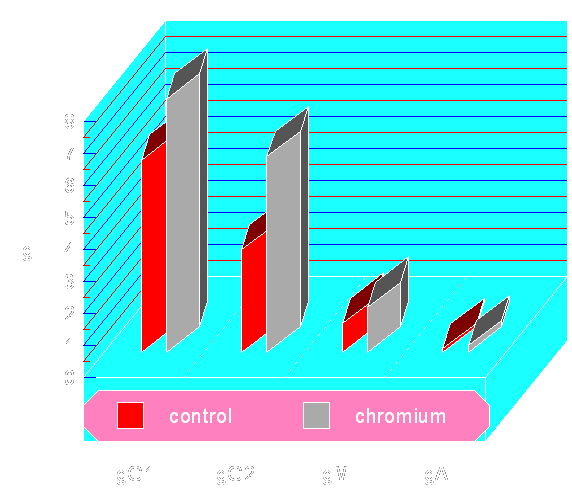 BENEFITS OF DINAKROME® YEAST IN CATTLE PRODUCTION
Dairy and beef cattle are often under stress, especially during partuation and early lactation, which may result in increased susceptibility to infections, such as mastitis, and reproductive performance. Beef cattle are exposed to stress during weaning, marketing, transport, and adapting to new feedlot conditions, all of which result in decreased performance such as growth rate, as well as increased susceptibility to BRD (bovine respiratory disease complex or shipping fever.)
Research at the Department of Animal and Poultry Science at the University of Guelph, has shown improved weight gain in calves shipped over long distances. However the most dramatic results were reduced morbidity due to BRD. The organic chromium source in one trial reduced the morbidity to less than 1/3 of the control.
Conclusions:
24% increase in live weight gain during the first 28 days.
82% increase in live weight gain during the first 28 days among heavy stressed cattle.
Increased milk protein in first lactation cows.
Reduced days to first heat in older lactation cows
Increased antibody response to a commercial live attenuated vaccine.
Early lactating cows receiving supplemental organic Cr. had superior cell mediated immunity.
Increase in immunoglobin levels.
Administer Cr.. in the organic form early in the stress period, this involves feeding supplemental Cr.. in preconditioning as well as receiving diets.
DINAKROME® (300 ppm organic Cr.) is the essential supplement for finishing cattle and lactating cows.
SUMMARY
Chromium is recognized as an essential nutrient. Stress often leads to an increase in glucose metabolism, which in turn leads to and increased need for chromium. The key to whether or not diets provide sufficient available chromium is stress. Livestock trials using organic chromium have shown benefits, chiefly in relation to supplementation in stressed animals. Stressed animals show increases in cortisol, which is reduced when supplemental organic trivalent Cr is added. DINAKROME® is the latest biotechnology benefactor from this animal research. This new and exciting supplement will help maximize production through eliminating chromium deficiency problems of reduced growth rate, and increased mortality and morbidity, and help to improve overall productivity.
MIXING RATES FOR DINAKROME®
Swine Starter
200-600 gm /tonne Use before any vaccination program
Swine
400-1000 gm/tonne Use before, during, and after stress
Poultry
400- 1000 gm/tonne
Dairy & Beef Cattle
400- 1000 gm/tonne
Horses
400- 1000 gm/tonne
ACTIVE INGREDIENTS
Minimum organic chromium
300 ppm
Minimum total dissolved solids
Sarsaponin 5%
Minimum Crude Protein
8%
Maximum Moisture
12%
Packaging
25 Kg. paper bags, drums, or pails
Storage
Keep containers closed when not in use, store in cool, dry area out of sunlight.